Curriculum
About Our Curriculum
Each school is unique, each serving a community with a unique set of characteristics. As a result, it is only right that schools should tailor their curriculums accordingly, in order to meet the needs of their children. At Woodhall, we have reflected upon what should drive our curriculum, drawing upon what our children need most in order to become educated citizens.
Our curriculum aims to support children who attend our school by:
Widening their

KNOWLEDGE

of the

WORLD

because we believe children should have a wonderment and interest locally, nationally and internationally
Increasing their subject

VOCABULARY

because words convey meaning; this increases their knowledge and understanding
Developing their

CURIOSITY

and

ASPIRATIONS

because these are essential components that engage and connect children with the curriculum
Enhancing

CRITICAL

thinking skills because successful learners compare, analyse, sift, sort and ask perceptive questions
Encouraging

ORACY

skills and abilities because as we know words empower children to make sense of the world around them, put their emotions into words, socialise with people, imagine and wonder.
At its heart, our curriculum has been designed to enable children to respond proactively and positively to the challenges they may face.
---
This year our Curriculum has been designed a little bit differently. Below are the fundamental principles that underpin our Curriculum and the way we teach our children. Strategic long-term plans have been created so that subject coverage is planned sequentially and with a clear rationale for making connections with prior learning, therefore learning is blended and refined. The Long Term Overviews can be viewed in our attachments section on this page. There is also an informative curriculum guide for parents and carers to view from the attachments section.

Watch Our Curriculum Video
---
Enrichment
At Woodhall, as well as offering all our children a broad, balance and responsive curriculum. We strongly believe that enrichment activities extend their learning through new experiences and opportunities that are key to their academic success, personal and social development.
As a school we are fully committed to preparing all children for future success, we aim to offer them an enrichment programme that is rich and varied in activities, enabling them to participate in learning experiences that may not always fit into the curriculum. These activities provide learning experiences that develop their character, including resilience, confidence, independence, and encourages them to pursue their aspirations and dreams.
See our Padlet for more information: https://padlet.com/kbojcun/w8rbanc5x6k2r5nn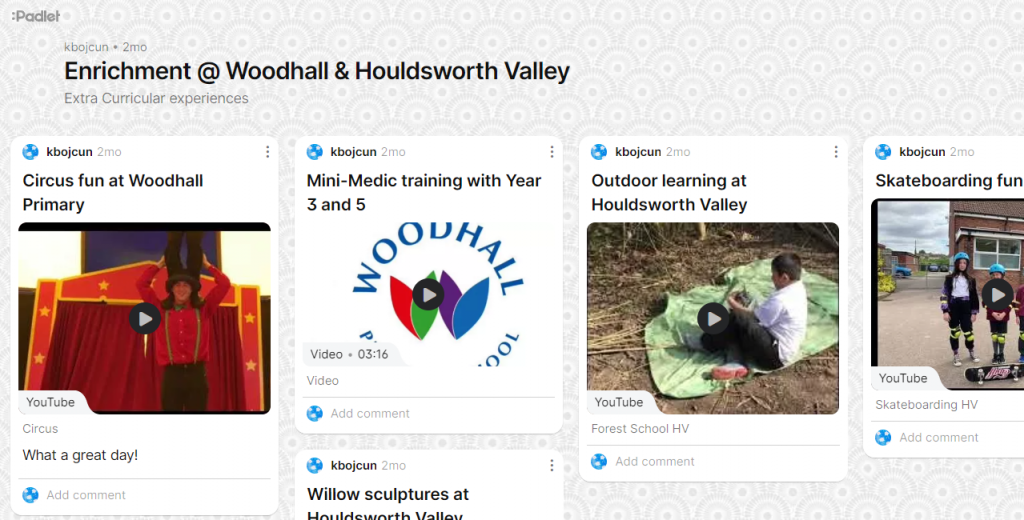 Inclusion is at the heart of everything we do here at Woodhall. See below the benefits enrichment has on our children:
Improved academic performance as a result of skills learnt during enrichment, such as time management, organisational skills, problem solving, critical thinking, public speaking and leadership skills
Empowers young minds to think creatively, problem solve and think outside the box
Participation in enrichments boosts confidence and self-esteem
Provides opportunities for children to explore their interests and discover new hobbies that may influence future career choices
Children learn to collaborate with others by working in groups and develop leadership skills, whether that is participation in a team sport, a group project or learning a group dance
Creates social opportunities, by being part of a team, it provides a sense of belonging and helps them build friendships outside of their usual circle
Additional health benefits when participating in sports, giving children an opportunity to compete in further team events
National Curriculum Coverage
At Woodhall we teach English, mathematics and science thoroughly, drawing on the National Curriculum for England for the essential knowledge children require in order to be educated citizens. Our curriculum introduces children to the best that has been thought and said; and helps engender an appreciation of human creativity and achievement.
To support teaching and learning across the school, we use a number of targeted improvement programmes. In English, we follow the Unity Schools Partnership Curriculum (CUSP). In mathematics, we follow the Mathematics Mastery programme.
Our wider curriculum is planned around themes that are well sequenced, engaging and expect children to connect previous learning to current learning and knowledge. More information can be viewed from the subject pages.
Knowledge to be taught
The content of our curriculum is age-related and matched from the National Curriculum, except in English, where children still follow the requirements of the National Curriculum, but are taught in stage groups. These groups are adjusted at regular intervals during the year, which is the key to distinguishing this approach from streaming and/ or setting by perceived ability.
We teach personal development through high quality, well-organised learning experiences. This is planned into classroom practice as well as being connected to the curriculum.
Spiritual, Moral and Social and Cultural education is connected to the themes of learning, and understanding is developed within the themes of learning for each year group.
Subject Links
Please follow the subject links for further information and resources on the subjects taught at Woodhall Primary School.